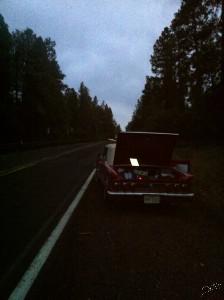 On our way out of Arizona, we basically wanted to get to San Diego as quickly as possible. Quite understandably as there was the whole Pacific Coast Highway waiting for us and here where we were, well, there was beautiful sights in Arizona, but we had a crazy as festival to get to.
But more car stories first: We went to pass through Flagstaff to camp close the nearby James Canyon at some site JamesAndPaula scouted. I underestimated the distance and we ran out of gas about 5 miles before getting there. While waiting about a couple of hours for the two to catch up and bring canisters of fuel, we became sure fairly quick, that we would be sleeping in a bed that night.
A bit odd was that no one stopped in the two hours to offer help or even ask if we were ok. Maybe it was because we were pumping loud music while having a dance or Morgane did not look inviting enough, who knows.
So, on our way back into Flagstaff to fill her up and find a motel, just when we crossed a railway crossing, the exhaust came off again. Lucky as always, the next building across was a motel and two doors down from there was a muffler shop. The exhaust got welded the next morning, but I learned that the front wheel alignment was pretty bad and was eating the tyres. That bad that the radial was coming out of the rubber on the inside. The guy from the shop gave them a few miles, if even. Consequently we had the tyres changed a few doors down from there as well and then we were ready to catch up with JamesAndPaula.
It was not long before the Californian border, that we did catch up with them for a break at a small town coffee shop. Passing the town of Hope (only 87 citizens?) we were following JamesAndPaulas lead to camp somewhere close to a side arm of the Colorado River in the wilderness of California. After more than an hour of dirt road adventure in the dark and a few turning arounds, we supposedly arrived where we wanted to go initially. Trying to put up our tents in the heat, we failed to peg anything in the hard ground. And with the massive heat that the dessert would still radiate although the sun had been down for hours, we left it at that.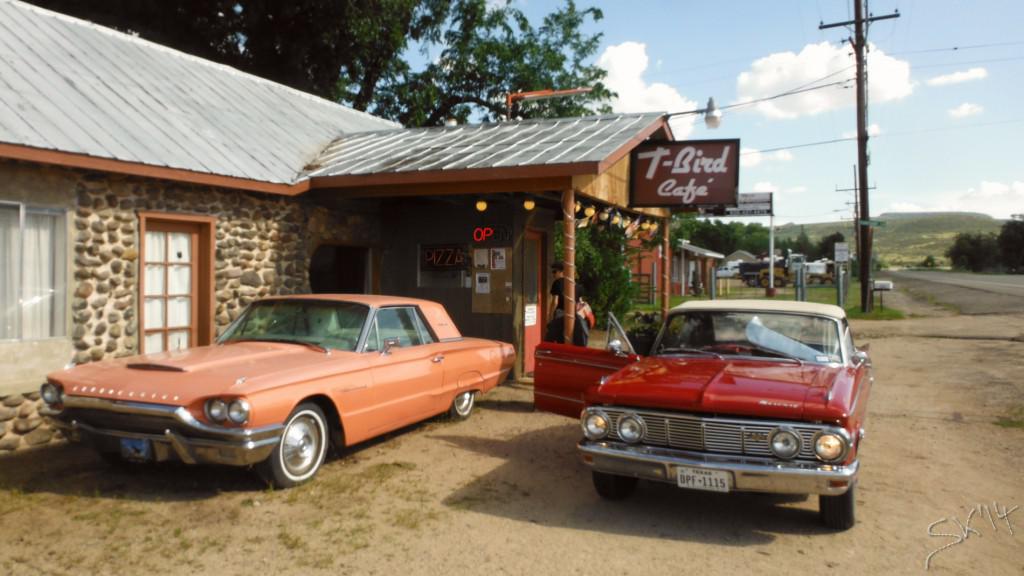 In fact, it was so hot I couldn't get to sleep until late, only to wake up two hours later to find Morgane still awake and a pretty bad sounding thunderstorm approaching. We decided after some debating that we would take the tent down, because we did not have any pegs in the hard hard concrete ground. JamesAndPaula joined and after a couple of hours drive we ended up at the all saving WalMart parking lot in El Centro close to the Mexican border, where JamesAndPaula would go back to sleep.
However, Morgane and I couldn't, so we would go and endeavour the superstore. It was quiet, which was understandable at 4:45am. After trying camping chairs for a good half hour, deciding which ones were to be ours, bikes were next. I dared Morgane to take a ride around the shop, but when it was my turn I got told off, so we left.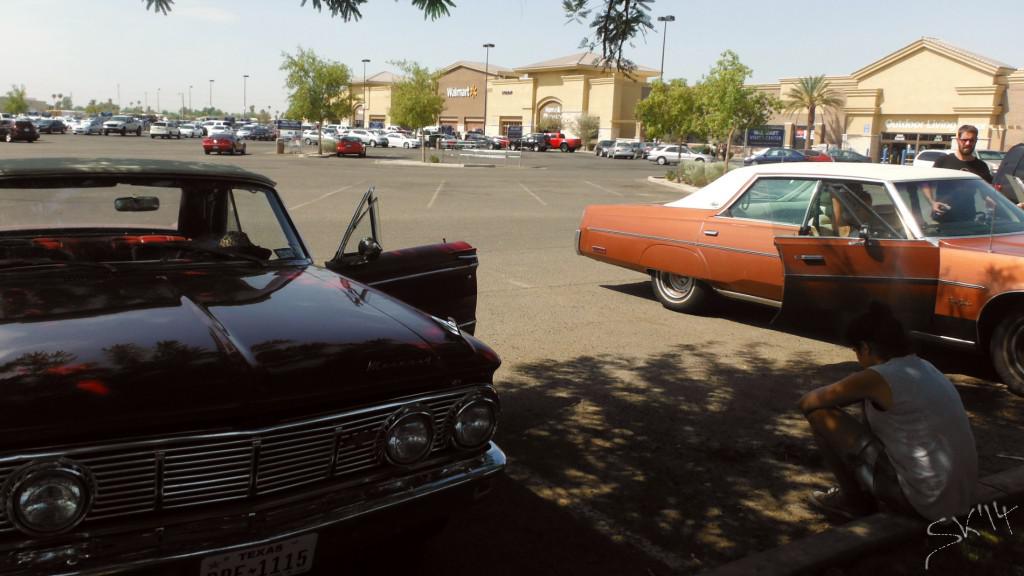 Despite ourselves not contributing much to finding places to stay overnight, it was safe to say Morgane and I got a bit fed up by JamesAndPaulas choice of camping locations, although the whole did not spare a certain comical aspect.
The patterns on the road to disaster were usually similar and very well observable from driving behind them: A fight about who reads the map right, followed by a missed exit or turn, some more arguing, arriving somewhere in the middle of nowhere, and then some more arguing – this time with us – that it was actually not to bad, because it was free. Having said all that, Morgane and I had a petty good time at WalMart, that we wouldn't have had otherwise.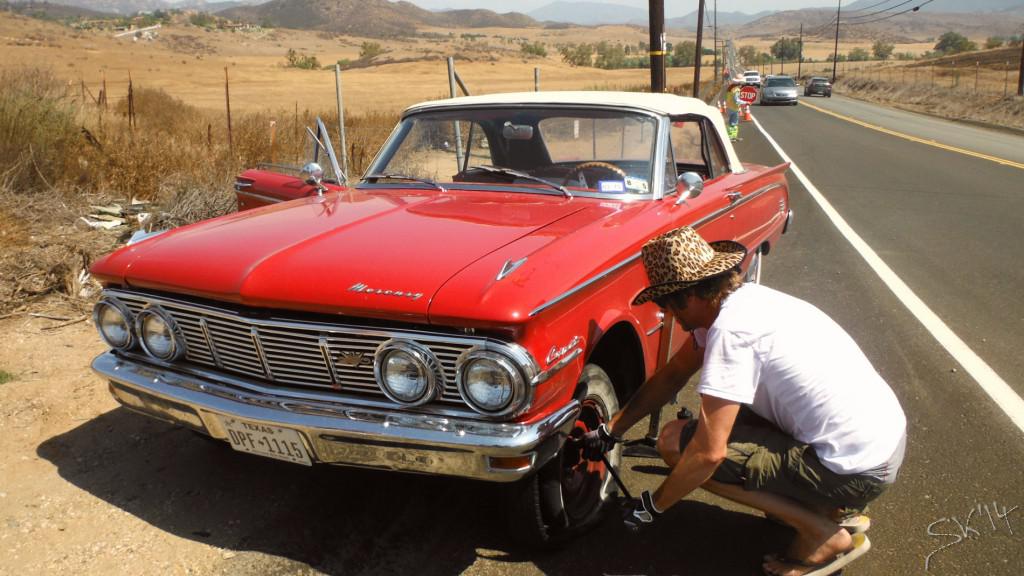 And then there were the tyres and their alignment. Passing close to the Mexican border – that close that we could see the border fortification – I realised that the used tyres acquired in Flagstaff were just as worn out as the ones were, that they replaced. It was just outside of Tecate, about 35 miles to San Diego, where we felt the car behave differently, especially in turns. Even JamesAndPaula could see us wobble and so we stopped to have a break and assess the situation. In an atypical display of stubbornness, I decided that we would make it to San Diego and change the tyres there, after getting the alignment attended to. Fifteen miles later – just outside of Jamul, an old indian village – you can guess (and see on the picture) the situation I got us into. On top of that, I could not loosen the last nut, regardless how much force combined with WD40 I would apply. One road side assistance later we were on our way to San Diego to meet the mechanics for alignment and some new front tyres.
Hans-Günther 2 – 0 Stanley (this time around, anyhow…)