During all of my trip so far, Albuquerque was the first place that I felt unsafe.
And it so happened to be in the middle of the city: After some driving, we all felt the need to blow of some steam, so we sought out to find the only place worth going out in, the Effex. Well, there was loud 'bangers-music', as Morgane would say, which is pretty much shit house music, involves a lot of DJ talking and whoop-whoop throughout the night. It was all I ever expected in small town America, I guess. But, we were not to be fended of that lightly, so we decided to indulge ourselves, being all ready to party and that.
We amused in joining the whoop-whoop crowd that had shit-faced bimbos trying moves in heels and not falling on/off tables and the male counterparts pumping fists and sporting some serious shirt-off-time. While trying to blend in, I guess we must have somewhat failed, as like-minded people found us quite quickly. Morgane and I ended up joining them for an after-party at theirs, which is where we got scared.
If you are unfamiliar with American bar restrictions, everything pretty much shuts down at 2 am (everywhere except in Las Vegas, New Orleans or New York). Consequently, at two in the morning we made our merry way to our new friends, while everyone else was doing a similar thing through pedestrians filled up streets. As it usually happens you bump into people to chat to, here and there, while waiting for stragglers, as it would happen to our new friends and us then. After we parted another group they somehow started a fight amongst each other, involving girls fist punching guys and skateboards being whirled. Our mates insisted this was a fight amongst friends and it would look different, otherwise. Ok fine we thought, until we went into their building and a guy with just boardies entered after us, cracking his gun.
We were baffled and later concluded, that he probably unloaded the bullet of the ready pistol, which he used to calm the fight down we just turned away from. Being totally unused to this presence of firearms, we decided we should go shooting in the next few days.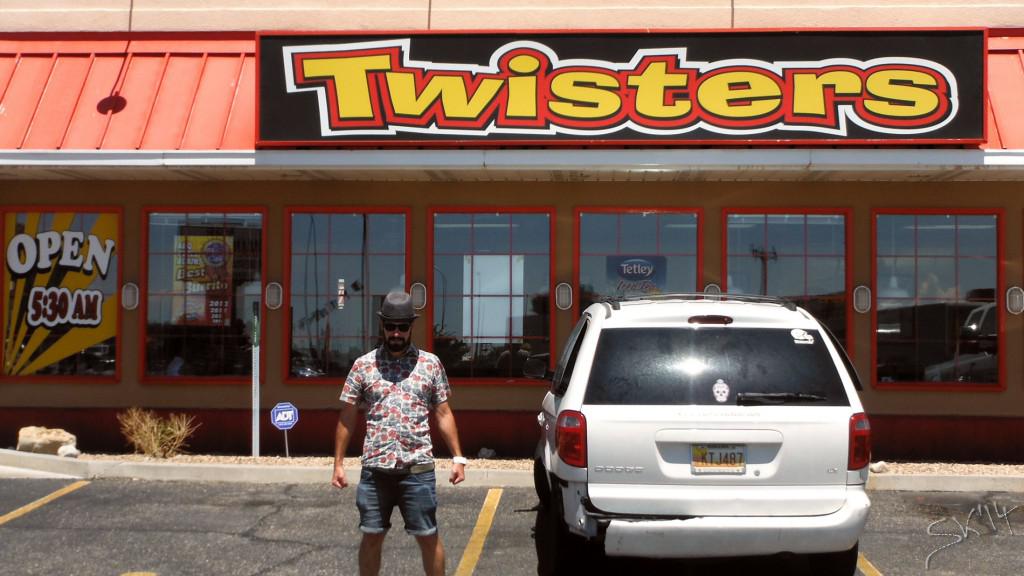 And then there was the need in our group to go and see shooting locations of Breaking Bad, so we did that for a full day. James was all organised, consulting various websites and knew exactly where to go. In fact he has already been driving past the car wash and the Los Pollos Hermanos earlier the day, before he dropped his car for some mechanical work.
So off we go to the Los Pollos Hermanos, which was a rebranded real life fast food joint. After some posing in front of it, mimicking one the lead characters (see above), Morgane points out that we were actually at a different place on the same franchise.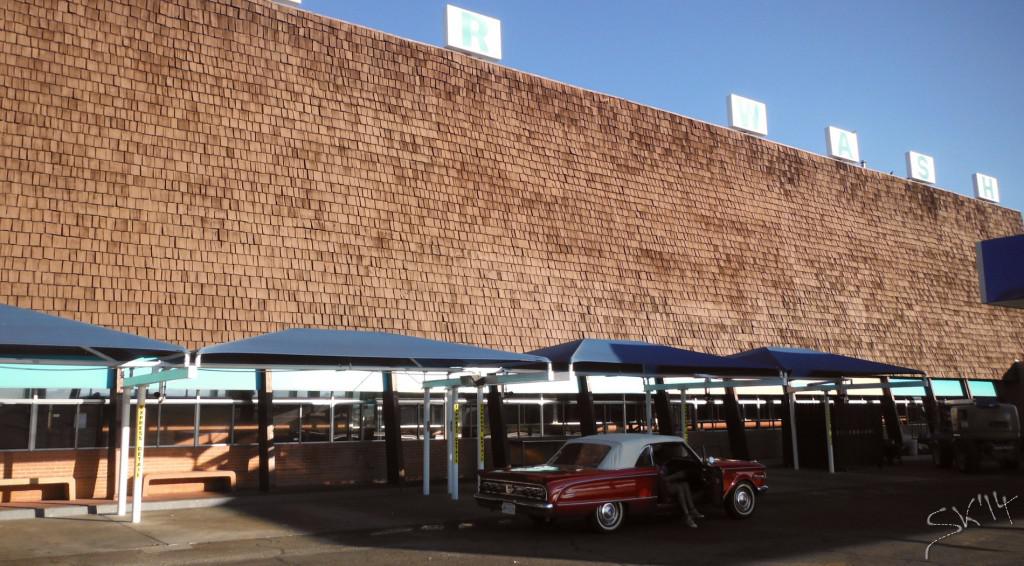 Not a worry, we just had to drive to a different end of Albuquerque and after about 45 minutes all was good. We were hungry and ate there as well, which was not the worlds greatest food. But hey, at least we were nourished for what was to come: A long day of driving, finding locations, interrupted by finding toilets. After we went trespassing on a few peoples properties to take more photos – "Morgane, can I borrow you sunglasses, please?" – we finally found the last location, the car wash. Since it took us so long finding it, because it was a different one, just like the Pollos Hermanos, it was too late to get Ha-Gü washed, since it just closed. However, James was happy having visited all these locations, while we were having some fun too seeing those and him.
In our attempt to be good Americans, after having bought classic cars, doing a roadtrip with motels, waffle-houses and roadsideamerica, surely we had to go and shoot some guns. Even more so after the late night inspiration from out party night a few days earlier.
Being the only one in our group that has ever shot a gun before, I was a bit indifferent to it, but hey, I only ever shot German ones, so hand me that 357. I fully expected Morgane to go bad-ass, but what was odd to see those two part-time-hippies turning it up after some initial warm-up. In fact, Paula was the best with the semi-auto-rifle, a gun very similar in handling to the H&K G36. I thought I would rock that weapon, since I was lucky enough to shot with a H&K G36 in my honour-guard days, before it got deployed to special forces. And actually I was one of the best shots in my platoon. But hey, here you see the hidden talents of a hippie, proving herself ready for any kind of apocalypse, beating my ass with that weapon easily. And all that with a rifle almost as big as herself: I'd go fighting Zombies or Aliens with Paula any day, no worries!
I did enjoy the Magnum best, maybe due to some Dirty Harry style demeanor, and it was surprisingly easy to balance; I found the 9mm to be too light and twitchy, but Morgane worked it out quite well and so did James. So, I guess we all found our piece/peace.
Fueled with Americanism, we made onwards, via Santa Fa and more importantly Stanley, New Mexico! Gallup was to be the next refuel station, where a rodeo and a few unexpected familiarities would be waiting for us.