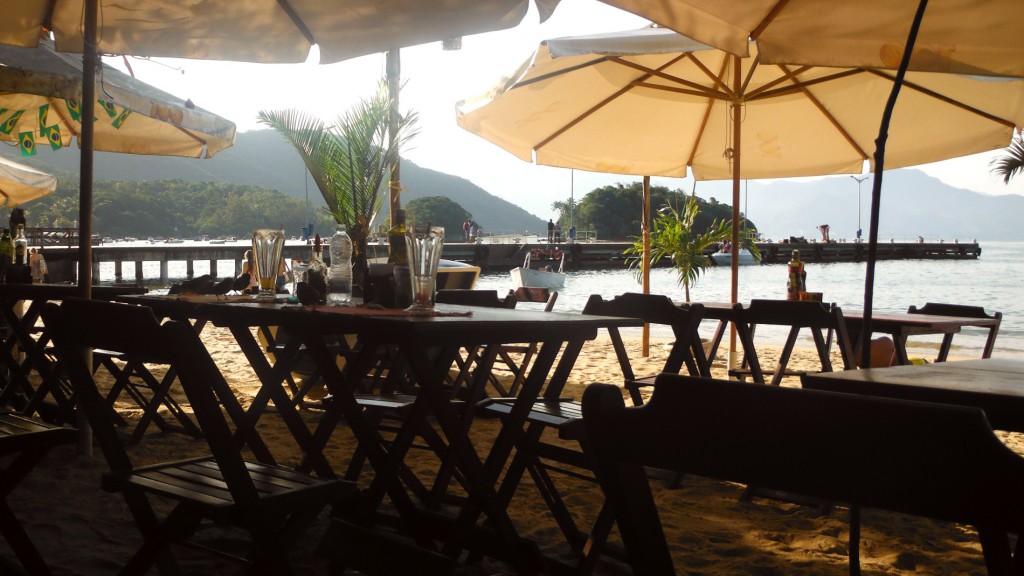 Ilha Grande is one of those island paradises, that everyone always keeps talking about: no cars allowed and beautiful beaches everywhere.
Well, although it's only town is rather touristy, the rest of the island is sheer beauty. So, I joined Kavita and Uli on their road trip towards São Paulo, stopping at Ilha Grande and Paraty, before I had to make my way back up to Rio de Janeiro again, to spend my last days of seven weeks Brazil there.
After all the World Cup madness that was exactly the decompression that I was looking for.
The drive down the coast from Rio de Janeiro was already very nice. And so different from driving up north and north-west. The roads are so much nicer and so are the houses along the road; even the poor seem to be richer down here. We also passed Brazil's only nuclear reactor and although there are plans to build a second one, about 80% of Brazil's energy is produced by hydroelectric plants. Wanna talk about carbon footprint in 'first world' nations?
Once settled in we had to fight ourselves through the various tourist tour companies only to realise that all of them are pretty much doing the same and also grant the same 'special discount' – just for us of course. No surprise, but confident that we had as shit a deal as anyone else we book a tour around the whole island, stopping at various spots except the most famous beach, Lopes Mendes, which is a separate half-day tour. Fine with us, but.
The tour featured jumping of high cliffs into beautiful bays, being lazy on white beaches, losing my sunnies again on one of them and bumpy speed boat rides that were a test for everyone's vertebral column. So much fun, however towards the end it felt like it was one or two stops too many; sensor overload completed. Unplanned random encounter was seeing a whale. So good!
Serendipity struck at dinner. When we were about to leave and Kavita and I went to pay, the table next to us held up Uli, asking him if he wanted to see a picture of the most famous person in Manaus. After answering yes, he was shown a picture where someone takes a 15 person selfie with me (after the Germany win against Brazil). Uli couldn't say much, but call me over and I was pretty baffled as well, to see that guy. I remember him using a steady-cam-harness for his videos and pictures. We exchanged emails and maybe I will get some footage. But given how my skill of acquiring footage has been so far, I am not holding my breath.
Paraty next. A well preserved colonial town famous for it's historic center with it's cobblestone car-free streets, that get flooded every high tide. It was also my last night with Uli, before he continues to São Paulo and I make my way back towards Rio de Janeiro. Needless to say we drew all the options available until the early morning, exercising all what Paraty had to give. That included torrential rain, a Mexican festival, which actually got better as the amplifiers failed, super cheap Caipirinhas that tasted like petrol, a lesbian bar, Uli thinking he could actually beat me in 10-pin and crossing broken bridges in early morning hours.
I was really grateful that I could meet him again after three years, so we parted with a smile the next day. As a good-bye gift he gave me his flag, that has been in Maracana for the final to make for mine being stolen out of my dorm room while I was asleep. I felt a bit ashamed that I had nothing to give back to him, but a lousy Polaroid the day before.
Hopped on the bus to Rio de Janeiro, mainly to do a bit more exploring and catching up with people I met along the way.