After Salvador and it's mild climate we arrive in Manaus to be flattened by humidity and heat. Speak about Jungle climate. But all good, we kinda expected that, so we had not much planned for the rest of the day. Carl left me the next day to spend four days in the Amazon, while I could only join after the two semi-finals on his fourth day. I would meet him again for a couple of hours in the lodge, when I arrive and he will leave for Lima.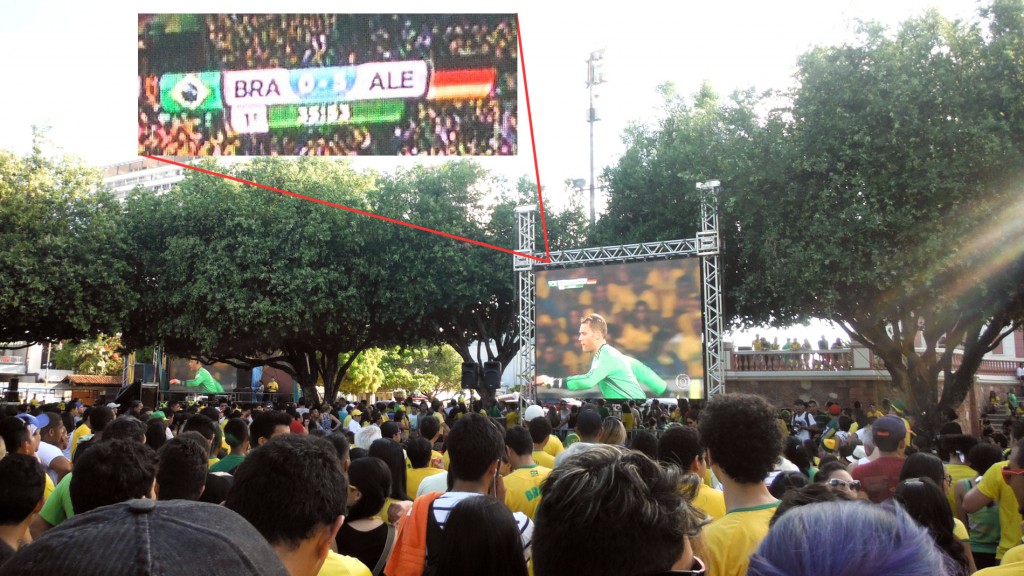 Meanwhile, new friends I made got me on a local TV show, for some funny game; an eating competition. Basically, they needed a German and it seems I was the only one they could come up with. Not too important, but this will fit in to what was happening the next day, when Germany won against Brazil. With in one half-time, I pretty much became the most popular guy in Manaus, being the only one wearing a German flag and shirt. Everyone (and I mean everyone) wanted a picture with me.It took me half an hour to walk 50 meters. Funny, but I wouldn't want to be a celebrity after experiencing this. In fact, the time I am writing this, I have met one guy by chance in Ilha Grande, who took loads of pictures and even a video of the spectacle. Anyways, a bunch of Brazilians (in the end we were about 15) took me out for dinner and to go out until the next day. Everyone we met along the way were still friendly and it was a really nice experience.
After a boring second semi-final, I went to the Amazon to see the beauty for myself. And what beauty it is. I can not attempt to describe it, as it literally made me speechless. Trying to describe the beauty of this jungle will utterly fail, regardless the words being used. If it's placid serenity will not amaze you, nothing ever will!
Similarly pictures are just a hint of what awaits everyone that decides to see for themselves.
Of course one can do more, than just gaze in awe. Piranha fishing for one, where we threw the little buggers back in after we caught them. Don't be mistaken, these small little fishies can really harm you. As I was unhooking my second catch, I let it slip a bit too much and it bit my finger, so that my hand was bleeding for quite some time. Generally it does not seem to be a good idea to get hurt in the Amazon, as everything takes ages to dry, because of the humidity. All good, since we used my blood as bait. And it worked quite well: one guy caught eight of them. Funnily enough Carl got bitten just a day before as well.
So I was prepared to be more vigilant when we went on a Jacaré tour later in the day. I held a little fellow of 5 years, but it had some serious strength; about a meter long.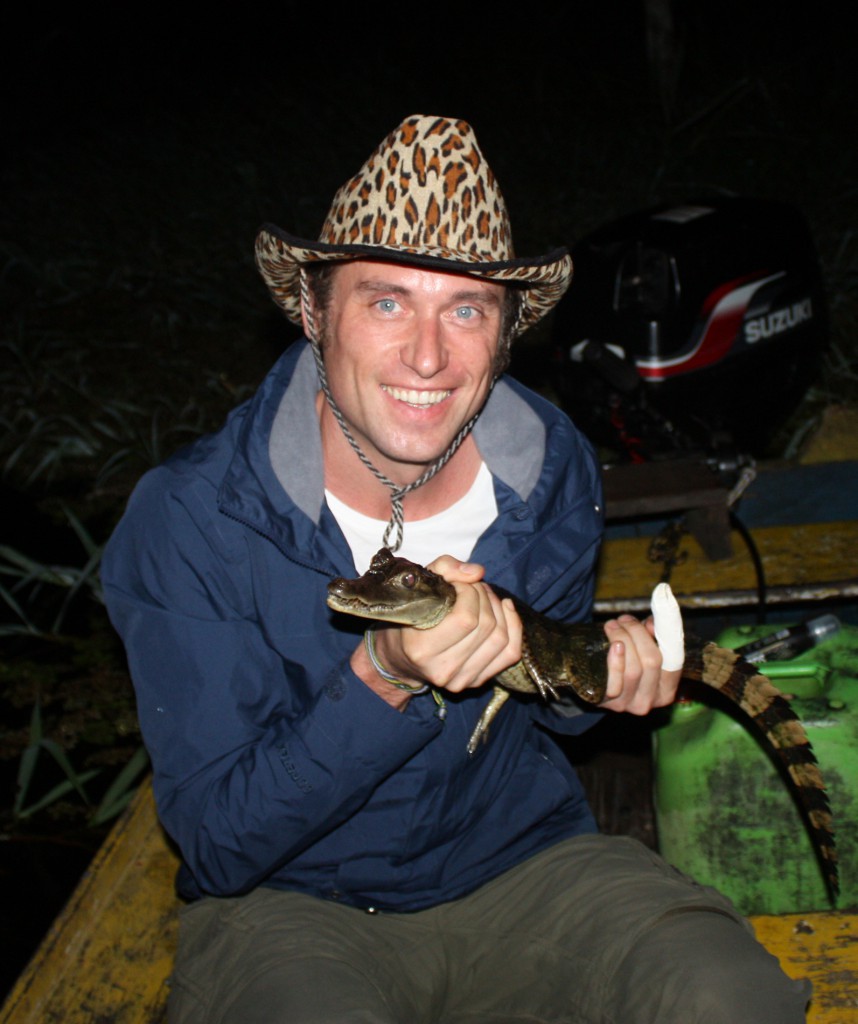 Then there also were pink dolphins that I saw, but didn't manage to take a good picture of. They are not really full on pink; they are grey with a pink shine to it and in fact only the old ones become proper pink.
Monkeys are around, and most of all there are a lot of Mosquitoes. Our guide said, that when we would be walking through the jungle the next day, Mosquitoes would be an issue. As if they haven't been so far already. So, since I just brought one t-shirt to change, I had to wear my rain-jacket at 38 degrees and 100% humidity (or something close to that) to protect my arms. But hey once your soaking and your skin is so oily from sweating, the mozzies are no issue anymore. Nature being nature, we also found some tiny ants that work as a natural mosquito repellant. One lets about 500 ants crawl on the hand before they get squished and become repellant. Thanks

So many interesting things, like a walking tree, for instance. One of the stems dies / gets torn off, it will grow one on the other side and change it's position. Or mades that grow in coconuts and taste like it as well.
Oh, and I did not see a Jaguar, of course not. Even the guide only ever saw one six times in his life, being about my age. But that's all fine. I actually came to the Amazon with no expectations and saw so much. It is truly amazing. And everyone knows how I spare with words that that tend to be used over inflationary.
So off to Rio to see the final. But not only that, I was also going to meet Uli, whom I haven't seen in years and who had decided within 48h to fly to Rio and go to see the game. ^^