Final days and observations
Whenever I am leaving a place that I got to like and where I was staying a bit longer, I start looking at it differently. It's a bit like saying good-bye to what I got used to in the last few years, month, etc.
Brazil only took seven-ish weeks to capture my heart and that despite all the world cup diversions.
So, I went back to Rio to finish off with Brazil and look at things differently. It is less looking for something new when you fresh arrived, but more like trying to imprint all you see into your memory to grasp as much as you can of the place that you know you are about to leave.
So, I did pretty much that and abused a walking tour for it, or met with a few people I met on the way. When I am doing this, this soaking in of things, all those little things that would catch my eye, that no local would pick up, but are perfectly describing the place for me, because they are so normal and yet so different from anywhere else, like this traffic light for instance, that amazed no one but myself.
Or, there is a place on Copacabana beach, in between all the bars that are there, which is run by the largest TV station, Globo. If you haven't heard, Brazilians are obsessed, not only with football but even more so with telenovelas. And to that extend, that their president Dilma (Brazilians call their presidents by first name) rescheduled a meeting, because she wanted to see a season finale (yes, that was her official explanaition).
So unsurprisingly, that place at the beach has a few flat-screens and shows telenovelas until late. When I discovered it, about close to midnight, people were sitting there with their packed luggage stopping on the way to the airport to catch a flight, so they wouldn't miss an episode…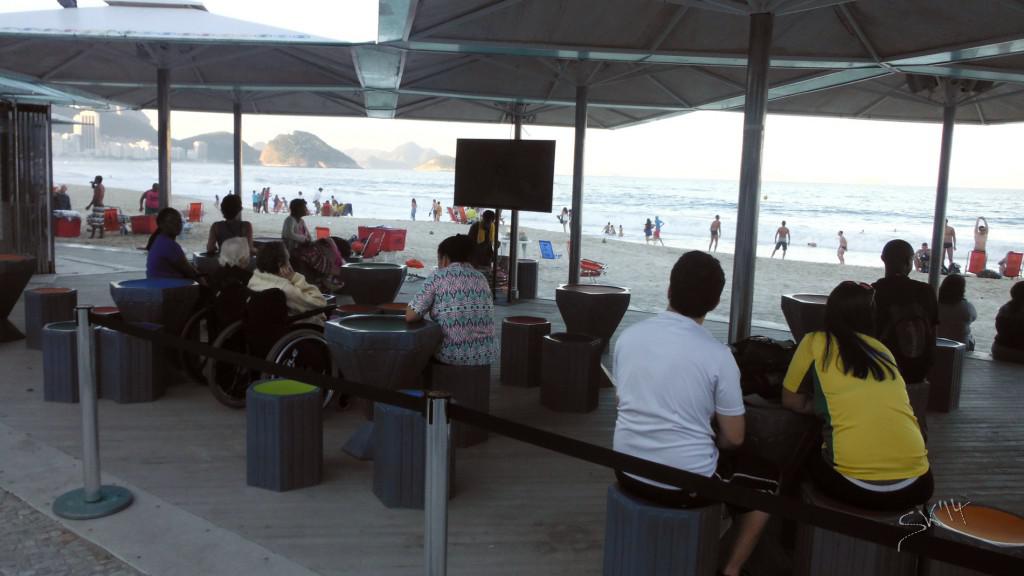 Then, I did a few touristy things as well, like look at some architecture of libraries and town-halls. There was this museum contemporary art I went to and besides all the art, there was another thing I thought was very Brazilian. There was one room which was labeled adult content and that you should be older than 14 to view it.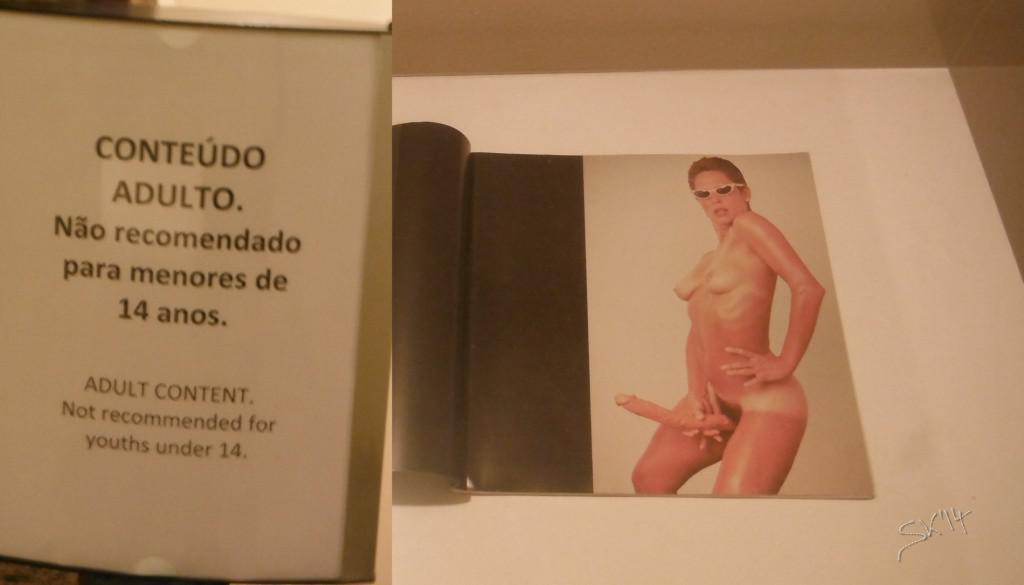 I had a chuckle, being on my way to a country, with legal drinking age of 21 and where countless people think porn is satans deed and intelligent design is socially acceptable.
Meanwhile, I went to that one market that all the cities seem to have. In Rio de Janeiro it is called Uruguaiana and it is really something. Yes, you can buy all the fake stuff and stolen things and its crowded as fuck, but what is special about it, is that, unlike most of those markets in other cities, here tourists and locals alike go there. It is normal to indulge in these places, as things are cheaper here then in most other parts of the town.
Which goes hand in hand with the fact that locals also buy of street vendors. Actually, it is perfectly normal to sit on the beach, getting served drinks by the bar that provides the chairs, buying food of some other dude that walks past and offers shrimps or fruit while completely ignoring the bars food menu and browse through the goods that are being brought to you, may it be cloth, jewelery or dvd's; all genuine of course.
But it seems like this here, as soon as you have money, you'll use it to display status or have other people work for you. Because labour is so cheap, anyone who can afford it, would rather pay someone to do their washing and groceries, than themselves. I'm not sure how much a washing machine is in Brazil, but R$10 doesn't seem too cheap to get a small bag of cloth washed.
So off I go, making my way to the airport – giving a stop at the telenovela place a miss – but getting excited about meeting Morgane and cruising the country that couldn't be more different to here in oh so many ways, not just legal drinking and porn age.