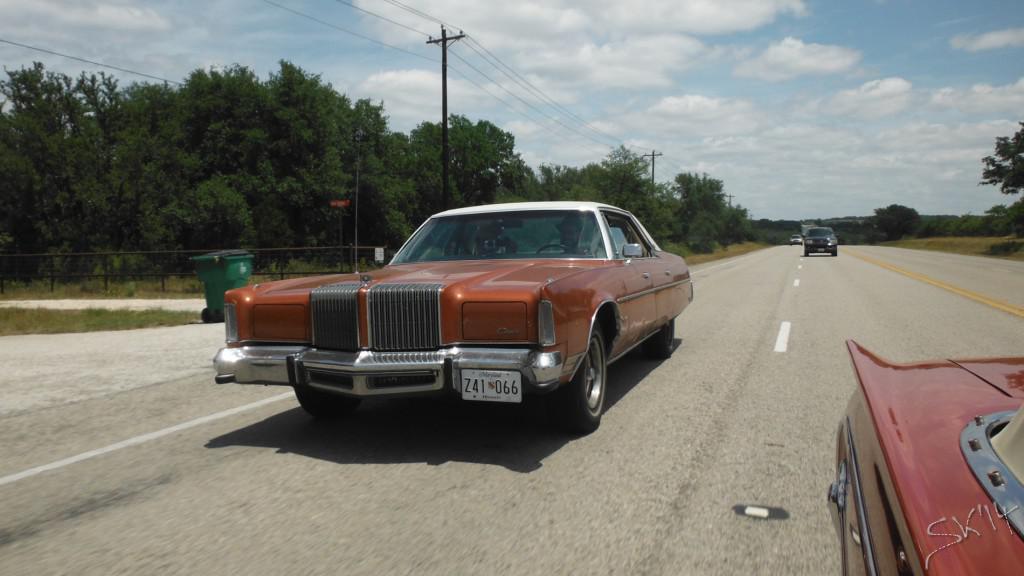 Onwards we went from Texas to New Mexico, destination Albuquerque. Via various stops including Roswell, the caves in Carlsbad, one of the worlds oldest Drive-Ins in Lamesa, Lincoln the home town of Billy the Kid and a small German community, I was enjoying convoying with three friends, now that JamesAndPaula had joined in.
We tried to stay off the interstates, which was not only much more relaxing to drive, but also gave way to encounter places that are easily missed.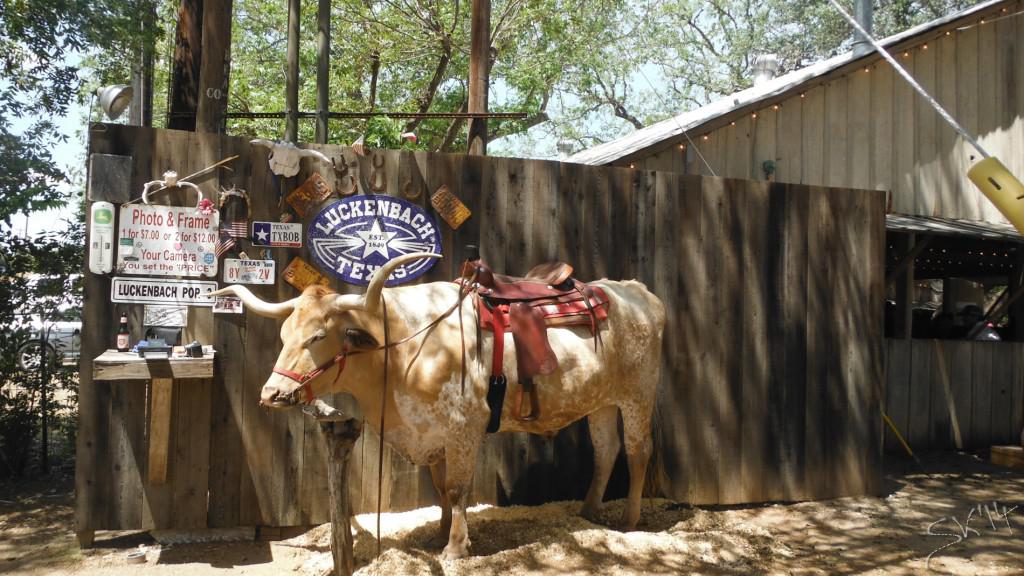 Our first stop was in Luckenbach, a bit more than a hundred kilometers from Austin, where a small community that claims to be German holds a festival every Saturday.
Usually the town is empty and is just populated for the festival, as everyone seems to live in Fredericksburg.
However, there is still a town sign and plaque explaining the history and a quasi operational post-office, although it now mainly functions as a souvenir shop. I also managed to find an elderly lady that was able to hold a conversation in German, while she was serving me beer and Bratwurst.
Quite astonishing, since all the rest of the town has diverted from anything German so much, that it rather seemed as someones vague idea of it than anything else; that is including the beer and the Bratwurst I had.
But we enjoyed the country music, the shops for cowboy hats and all the tex-mex food trucks for a while. It gave us a unfalsified insight into rural Texan culture and what people enjoy on the weekends.
After some more driving and learning that Morgane can actually nap with the top down at 55mph, we camped at a nice spot near Brady.
Lamesa, a small town in the middle of nowhere, was where we managed to find the next spot to camp (after some more driving, of course). We must have tickled the curiosity of the Lamesians that went out for a camping week-end with their trailer (the whole 5 miles to the local ground), as we were invited to their local Drive-In-Theatre, one of the oldest still running.
We also got to taste their patented Sandwich(!), called the Chihuahua. Or I was, since it has some sort of meat in it and them veggo's were pretty much leaving it to me eating it. In return, I was leaving it to them to explain what vegetarian means.
They were earning interesting looks and quite a few "Ohh okaaay…"'s, while the staff tried to figure out how to make that sandwich vegetarian; I think the guys had a roll with lettuce and sauce in the end.
However, everyone was very nice and we couldn't manage to pay a thing, no matter how hard we tried. Maybe also because people were curious about this weird group of people from four different countries ending up in their local adobe. Quite a few laughs, interesting questions ("Are Aboriginals entitled to education in Australia?") and a movie later, I went to bed with a fascinated smile on my face.
Next destination Roswell, with a short stop-overs at the Carlsbad Caverns, which were about half-way to Albuquerque. We've done all the good tourist things at those two places, as some photos will prove. The caves itself where quite fascinating and definitely worth a visit. However, sound travels quite far and easy, so don't go if you're in the middle of processing a Chihuahua or similar.

The most unusual thing we discovered in Roswell was that it was terribly difficult to get any dinner in this town on a Monday night.
Next day, UFO museum to fuel our thirst for conspiracy theories, of course.
In fact, I found it very worthwhile to read the numerous Arthur Davids from persons involved and the related finding and disappearance of metal and rocks presumably connected to the 'incident'. Then there is whole bunch of ra-ra-ra before another interesting part in that museum, which is about depiction in historic cultures, such as the Mayans, etc.
Lincoln was tiny and made up for passers through to stop and indulge in the touristy nostalgic flair the city has. Billy the Kid is only mentioned rarely around town, but then again it was enough to lure us there (or better James' English tourist self).
In the end, we were grateful for this and the short break with the first descent coffee in ages, as the time in this little place doesn't run at all.
A bit further down the road we encountered quite a thunderstorm and I was glad Ha-Gü passed the test. Thanks to Morgane's artistic photo phase, we also got about ten nice pictures taken (out of the two-hundred or so attempts).
We arrived quite late in Albuquerque, but that couldn't stop James from reveling on about what Breaking Bad sites we would have to visit, pretty much as soon as possible, before we were dismissed to bed.